..
Frederich Schackler's
Memorial Stone
Is recognized by the
Daughters of the American Revolution
See his name on the DAR Plaque
..
Frederich's 2nd Wife "Magdalena Spaengler"
is also buried here
..
.........................Words of the stone are repeated in English BELOW
..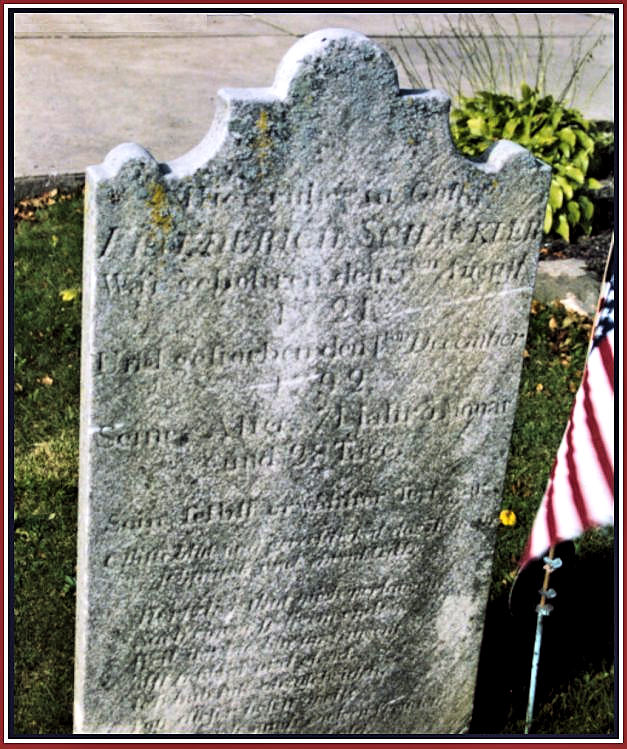 INGERMANIS WRITTEN
---

Here rests in God, Friederich Schackler,
born August 3rd 1721
and buried the 1st of December 1792.
He was 71 years 3 months and 28 days old.
His own selected text was (10 lines " farmer Philad a")
2) Grave of Magdalena Spaengler
she was the widow of Frederich Schumacher
(born Spaengler) on 20 Feburary 1745
in the district of Eweiler in Thalis in Zweibruchichen
They had 2 daughters
she was buried 27 Janurary 1785.
Her text was Psalm 31: ver 6
buried in Taun Schip her 40th year.
,,
See: AREA MAP FREDERICK'S WEB PAGE
....
SHECKLER HOME PAGE................Web Master..e:mail gdad@bouwman.com