FRIEDRICH SCHAECKLER
our 1st Generation Grandfather
was born in 1721 in Germany.
..
At the age of 29 ** Friedrich set out from
Roumelsbach, a suburb of Reutlinger,
Baden-Wertemberg, German.
He continued to England where
on Sept 17, 1750 he sailed
from London aboard the ship "Sally"
a Brigantine with 24 other passengers,
under Captain William Hasslton.
..

..

.
...
LINK to Stories by Generation
In theMICHIGAN LINE

..
Fredrich setteled in Northampton Co. , PA as shopkeeper and yeoman
(one who owned a small landed estate).

Click on Kreidersville Area of map for Lehigh River Detail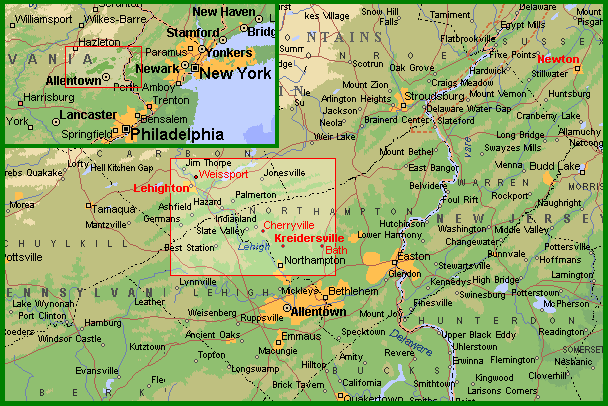 ..
In this first settling area of Pennsylvania,
history records a little Moravin mission and colony, founded on the site of Lehighton
and its sister settlement on the opposite of the river, where Weissport now is,
were wiped out by a
savage horde of Indians on 24 Nov. 1755.
..
This link will lead to
OTHER BRANCHS
of Sheckler Family


Seven years after arriving in America, "1757",
Friedrich married Mararetha JARRETT
(d/o Anna Maria & John Jarrett.Sr.).
Mararetha was born Apr. 1738 in PA. and died at age of 36,
on 20 Jun 1774, just 2 years before our Independance.
She was buried in Indianland Lutheran Church Cemetery,
3/4 mi. West of Cherryville, PA.
Known records list 10 children being born and that
the last 5 children did not have a long life.
--
2nd Gen. Children Daniel Martin and Tobias migrated to Buffalo Valley.
The remaining children stayed in the Lehigh area where many of their
offspring then migrated to other parts of America.
---
When Friedrich was 59, he married a 2nd time..
Magdalena SPAENGLER SCHUMACHER
(widow of Johan Frederick Schumacher)
born 20 Feb 1745 in Thalis, Zweibruckich, Germany...
They had 2 children.
..
Friedrich Schaeckler died 1 Dec., 1792
Magdalena died 27 Jan 1785
..
They are buried in Zion Stone Church Cemetery,
North of Kreidersville, PA.
..






In pages (167 - 174) of the "SHECKLER BOOK"
there are records of history on
the two mothers, confirmations, probate of will problems.
..



Revised 10-29-00, maintained by gdad@bouwman.com