......
George was born 21 Sept. 1851 in Mifflinburg, PA.
during the presidential term of Millard Fillmore
He lived throught the terms of 17 Presidents,
dying Oct. 28, 1922 under Warren Harding.
....
George attended Public School and
was also taught by his father, a teacher.
His father also taught him to be a surveyor.
George was a Union Co. surveyor for 50 years
and served as Justice some of those years.
..
George became a teacher at age of 22
but for only 2 years. He then became a
prized lecturer, using a stereopticon to
illustrate the subjects of discourse.
..
In the fall of 1880 he married
Hannah C. Miller born Feb. 10, 1863
daughter of a
Northampton Co. teacher,
Josiah (Jessie) and Susan Miller

Click Photo

George and his wife Hannah occupied
an enviable position in social circles
and their attractive home was ever open
for the reception of their many friends.
Their home was the farm George's
mother inherited from her parents,
George and Mary Hauck.
5th Generation Son
GEORGE'S - Michigan Branch Links
....
This link will lead to
OTHER BRANCHS
of Sheckler Family
..
George Hauck was the only child of
Conrad and Mary Ann Sheckler
....
---
..George's Family Tent Show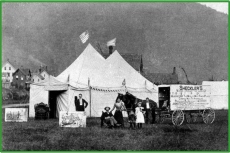 ..
..
.. Hannah and George had 8 children,
The last two were born in Michigan
where they had moved in about 1900.


George Hauck Sheckler died 28, Oct. 1922.
Buried in Lakeside Cemetery
Colon, St. Joseph Co., Michigan
..
Hannah C. Sheckler died 21 July. 1940
Buried in Lakeside Cemetery
Colon, St. Joseph Co., Michigan

...